When you're thinking of building or buying a new home, or renovating your current property, fencing is frequently the last consideration.
However, your fence is often the first impression guests will have of your home and contributes significantly to the look, feel and value of your property.
It's incredibly important that the fencing material you choose for your property not only complements the style of your home, but your lifestyle too. Do you prefer your property to be open and have curb appeal, or would you like to create your own little private paradise in suburbia?
Fortunately, there are plenty of options when it comes to fencing materials. Read on to find out which fencing material could be the one for your home!
---

Picket Fencing
A classic fencing material and the dream of many home-owners – a white picket fence! Picket fencing stands out from the crowd thanks to their shaped top and tends to look best with a traditional or federation-style home. They can be painted in a variety of colours or even stained for a more rustic or unique look.
Keep in mind that in order to keep your picket fence strong, healthy and aesthetically pleasing, a high level of regular maintenance and cleaning is required. This includes:
Wiping down your picket fencing during the wet, damp months to prevent mould from growing.

An initial coat of heat-resistant paint to prevent dry heat damage.

Repainting or retaining your picket fencing at least once every five years to ensure that it is kept in optimal condition.
---

Timber Fencing
Timber fencing is an incredibly popular fencing material around Australia thanks to its affordability, versatility, durability and modern design. Timber fencing's versatile look compliments a wide range of different home styles, in particular late 20th century and contemporary homes.
It is most often made from treated pine or hardwood. Due to the nature of its solid construction, timber fencing can withstand Australia's harsh and unpredictable weather conditions, such as high winds, far better than other fencing materials.
With the right care and maintenance, timber fencing can be one of the best bang-for-buck fencing materials available. Timber fencing is frequently left to weather as part of its style so there is slightly less upkeep than picket fencing, but you will still need to perform regular maintenance in order to prevent mould, decay and termites.
---

Metal Fencing
Metal fencing is the ultimate fencing material if you want a modern, durable and secure fence to protect your property. It has a clean and sophisticated design, is easy to erect, and is very low maintenance.
If you share boundaries with an adjoining property, metal fencing is ideal as a separating fence. It can also be used to create a secure but subtle fence for the front of your property. Many metal fences come pre-engineered so they can be installed quickly. The ability to easily install a metal fence reduces labour costs and passes the savings on to you.
Metal fencing is highly flexible in design and can be finished with either a high-quality powder-coated finish or painted to match the colour of your home. It looks especially fantastic with modern, mid-to-late 20th century or art deco-style homes.
While metal fencing is one of the most low-maintenance fencing materials available, if not treated correctly before installation, it can be suspectable to rust and corrosion. With the proper treatment of a 100% zinc coating (also known as galvanised steel) or a zinc-aluminium combination paint upon installation, metal fencing can be one of the best fencing materials for those who don't have the time or ability to regularly tend to it.
---

Brick Fencing
Sturdy and low-maintenance, brick fencing offers a classic and warm look that will last for many years. Depending on the design, brick fencing can work beautifully with several different styles, however, it pairs best with classic art-deco and bungalow-style homes. If you are looking for a more modern look but still want brick fencing, consider painting or rendering it.
A potential drawback of brick fencing is the expense involved. Brick wall fences require council approvals, sometimes extending timelines and budgets. Installation is also slow and requires multiple skilled tradespeople, which then drives up the overall cost.
---

Stone Fencing
Stone fences are durable, long-lasting and when combined with plants are perfect at achieving a natural, rustic look. The sturdy nature of its construction makes it perfect for a security or privacy fence. Stone fencing comes in a wide variety of shapes and sizes, and is both structurally and visually timeless.
However, stone fencing is not cheap. It requires a skilled team of tradies to install and usually needs to be softened with plantation. They are more expensive upfront, but because of their durability and maintenance-free nature, they are cost-effective in the long run.
---

Concrete Fencing
Where maximum security, privacy and protection from the elements are concerned, a concrete fence is the best choice. They are long-lasting, versatile, and is excellent for soundproofing. Concrete fencing can even be customised with a variety of accents and pigments to match any design or layout.
However, it is a costlier option as it requires a high level of skill to construct and needs to be cleaned regularly in order to avoid mould build up in areas where moisture is high.
Concrete fences are also permanent. If you're indecisive, or not sure if you'll like the look of it, it's better to stay away from concrete.
---

Wrought Iron Fencing
Due to its traditional and decorative design, wrought iron fencing is most commonly used for estate fencing and perimeter fence. It is by far the strongest fencing material available and can be moulded into various shapes and designs to enhance the look of your property.
Wrought iron fencing does require regular maintenance to protect it from erosion caused by the weather. You may need to sand it down and repaint it every two or three years for continuous protection from the elements.
In recent years, it has been gradually replaced by lower maintenance metals like steel and aluminium, but nothing beats the strength and security of a well-maintained wrought iron fence.
---

Composite Fencing
If you're after the look of a timber fence without the associated upkeep, composite fencing could be the way to go. Manufactured from a combination of timber fibres and plastic polymers, composite fencing provides a wood-like look without any of the maintenance downfalls of timber fencing.
Since composite fencing only possesses traces of timber, it's resistant to weather-induced rotting and deterioration. This means that you don't have to apply any finishes or glazes in order to keep it in tip-top shape. Additionally, composite fencing is resistant to insects – no need to worry about termites eating through your fence! To maintain a composite fence, all you'll need to do is give it an occasional washdown.
Composite fencing also offers terrific durability and strength. Except for wrought iron, it's about the toughest fencing material there is. Such a combination of style and substance runs slightly more expensive than vinyl or timber, in both material and installation. However, since composite fencing requires relatively no maintenance, you can save money in the long-run.
Composite fencing also struggles to maintain its look over time, especially if you have one that sports a dark shade such as black, grey or brown. Unfortunately. Once the colour of your composite fence has faded, there's nothing you can do to reinstate the former shade. Due to this, we'd recommend going for a lighter shade if you were wanting to use composite fencing in your property.
---

Vinyl Fencing
Do you want a classic white picket fence, but don't want the maintenance? Vinyl fencing might be for you? Thanks to its ability to imitate picket and Victorian-style fences without the price tag, vinyl fencing has become more popular within Australia.
Made from synthetic plastics, vinyl fencing offers durability and flexibility. Fences constructed from vinyl possess a great level of strength and maintenance-free. To clean a vinyl fence, all you need to do is give it a brief hose down every now and then.
However, it is not as sturdy as timber, steel or concrete fences and is not recommended for high heat or windy weather conditions. As vinyl expands and contracts with temperature fluctuations, it can become brittle and eventually crack.
Similarly to composite fencing, vinyl fencing's colour made fade away over time due to prolonged exposure to external weather conditions. If you decide to use vinyl fencing on your property, we recommend choosing a light colour to prevent noticeable fading.
It is also an expensive fencing material, but you will save long-term in maintenance costs.
---

Aluminium Fencing
Aluminium fencing is very popular for modern-style homes due to its contemporary, sleek design. It's essentially maintenance-free and is extremely durable as it is resistant to rust, corrosion, and fire.
Cost-wise, aluminium fencing is around the same range as vinyl fencing, but is far better in terms of functionality and strength. Aluminium is also very lightweight, making it extremely easy to install.
However, its lightweight nature means it can easily be bent or damaged, so is not suitable for security fencing or high risk or traffic areas.
---

Bamboo Fencing
Favoured for its classic tropical look, bamboo is a tough fencing material that is environmentally-friendly, durable, and resistant to heat and ultraviolet rays. Bamboo fencing is ideal for screening or privacy fences and comes in rolls and panels for easy construction.
However, bamboo can be expensive and depending on where you live, transport options can hike up that price even further. It also requires a high level of maintenance. Unless you're willing to give your bamboo fence a periodic scrubbing, you will want to protect it with a coat of strong polyurethane finish or varnish every five years to prevent blackening from weather exposure. It must also be properly sealed against moisture to prevent rotting, and if stained it will need to be re-stained every year.
---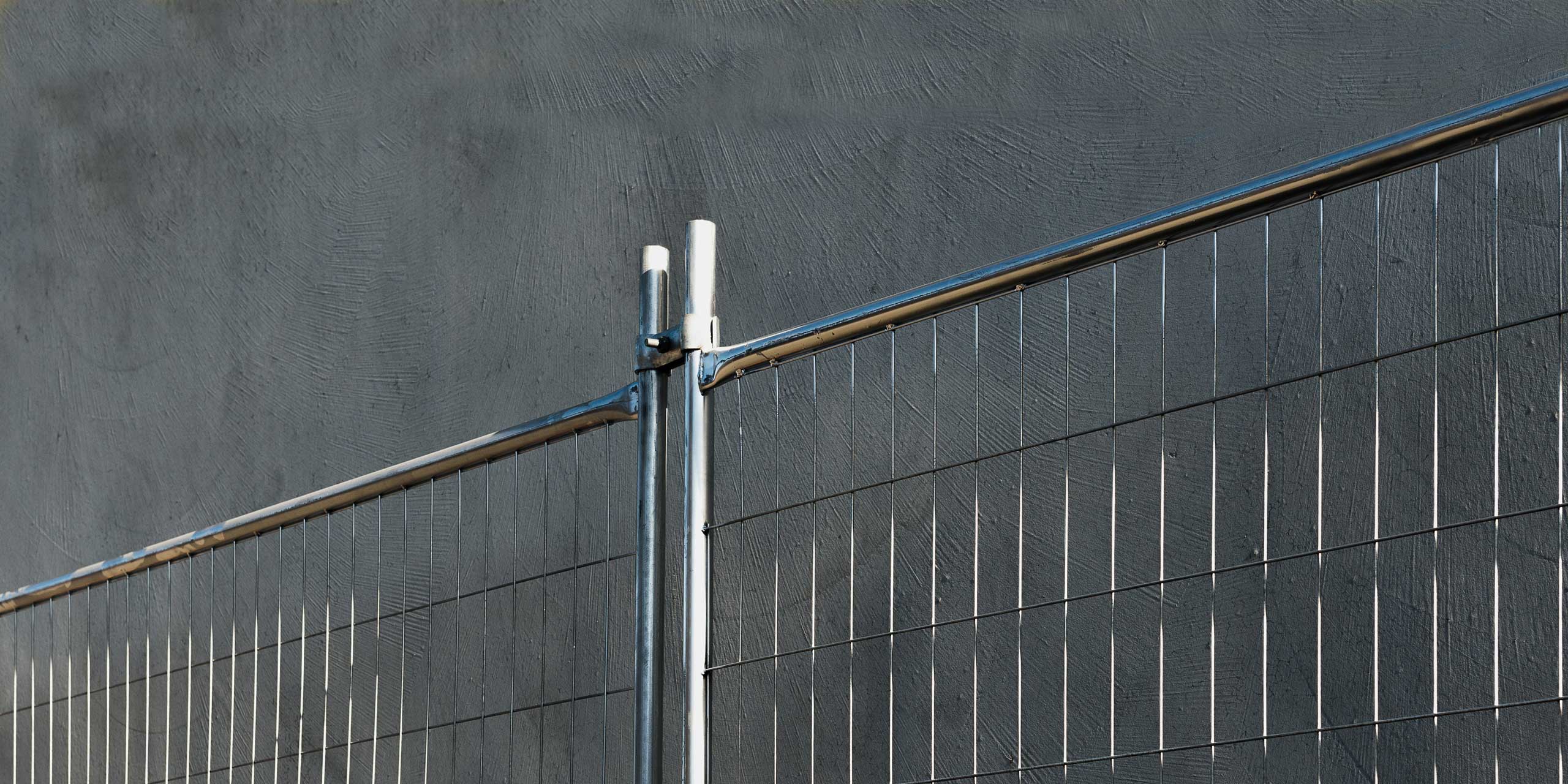 Timber Fencing
While temporary fencing may not have the aesthetic look of other fencing materials, it is still a vital part to your fencing needs.
If you're building your own home, you'll need temporary fencing to meet local law and health and safety requirements. Temporary fencing will also protect your property from theft and damage, and ensure that the public is safe from possible construction dangers.
Temporary pool fencing is also legally required during the construction of a pool for the safety of your family, construction workers and visitors. It must meet your local council's pool fence regulations, and you will need to use the correct temporary fencing installation procedures to avoid any potential issues.
If you're renovating your home, most councils require you to properly fence off the area that's being renovated, and you could face hefty fines if you don't. To purchase temporary fencing for your new home, speak to TTFS today by calling 1300 119 998 or visit one of our temporary fencing Adelaide, Brisbane, Melbourne, Perth and Sydney depots.