Are you looking for a cost-effective way to keep attendees secure at your next event?
At TTFS we have a range of temp fence panel styles and types for various applications including fencing your outdoor event. Temporary fencing is the perfect solution for your next outdoor event and here are just some reasons why:
Security
TTFS have a range of temporary fencing and crowd control barriers that can be used to create a barrier around the event and around specific areas that need to be enclosed. If your event is ticketed, temporary fencing is a necessity to distinguish attendees from the general public. If your event is 18+ you need temporary by law in order to guarantehttp://barriers/e that only adults with liable identification are being allowed into your event.
Temporary Fencing assures organisation and ease for your security and ticketing staff, by using crowd control barriers you can create lines for your attendees to wait in whilst having tickets and identification checked.
Depending on the type of event you are hosting you will also need to provide secured areas for performers, athletes, toilets, and food and beverage, vendors. Temporary fencing is relied upon heavily for sporting events in order to prevent unwanted access to the sporting grounds and for the protection of athletes from overly eager fans.
Many music and sporting events have VIP areas for attendees and it is important to have a completely secure barrier between the VIP (premium access attendees) to the general admission attendees. Temporary fencing or crowd control barriers can be used to create a secure VIP area that will ensure that your VIP and general admission attendees stay in their designated areas.
Temporary Fencing will provide your event with the security needed to run a safe and successful event.
Control Large Crowds
Large and impatient crowds are an expectation at outdoor events. Temporary Fencing will create a barrier from the event to the public and the attendees inside the event. Crowd control barriers are ideal to use as barricades at lines for carnival rides, food vendors and toilets.
Whether you need to zig-zag ticket lines, separate areas, or prevent overzealous fans from jumping onto the stage, temporary fencing is your solution.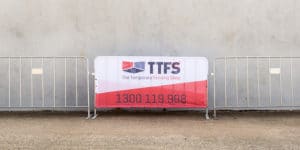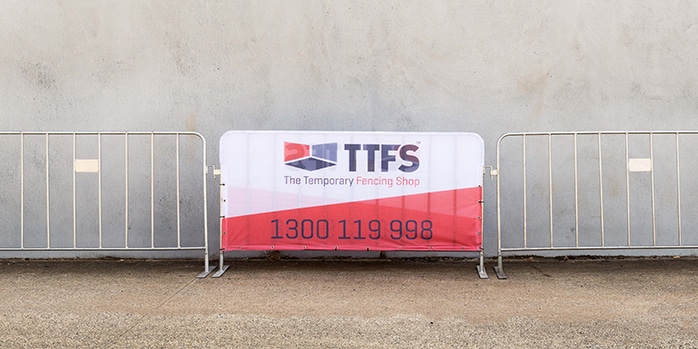 Prevent Theft
Theft at events is not uncommon, temporary fencing can be set up to give barriers for event workers such as the caterer's, bands and other entertainment providers, that will give them the required space and privacy to protect their equipment and goods.
If your event is ongoing for longer than a day, it's too easy for trespassers to enter your event site uninvited. This is especially an issue for events such as music festivals or carnivals as expensive equipment and materials may be left outside. Temporary Fencing provides a clear and sturdy boundary to indicate that the site is not open to the public.
Improve Privacy
If you are hosting a private event such as a birthday party or a wedding in a public venue, the last thing you want is uninvited people having access to your event. Temporary Fencing will ensure that your private event isn't open to public viewing and runs smoothly with no unwanted interruptions.
Best of all, temporary fencing is extremely versatile. It can be installed and removed within hours. It can be customised to the size and shape you require for your event site.
Contact our friendly sales team on 1300 119 998 to find out more about our high-quality and durable products.
TTFS delivers nationwide and are supported by depots in Adelaide, Brisbane, Melbourne, Perth and Sydney.