Construction site cleaning is an essential part of project management. Keeping your building site clean offers numerous benefits, and it affects every single person on the job. A clean and tidy worksite helps to ensure safety standards, prevent accidents, and boost productivity, among other benefits. When rubbish and waste materials are put in their proper place, your team will keep safe and stay focused on the job at hand.
Pre-construction: Starting with a clean slate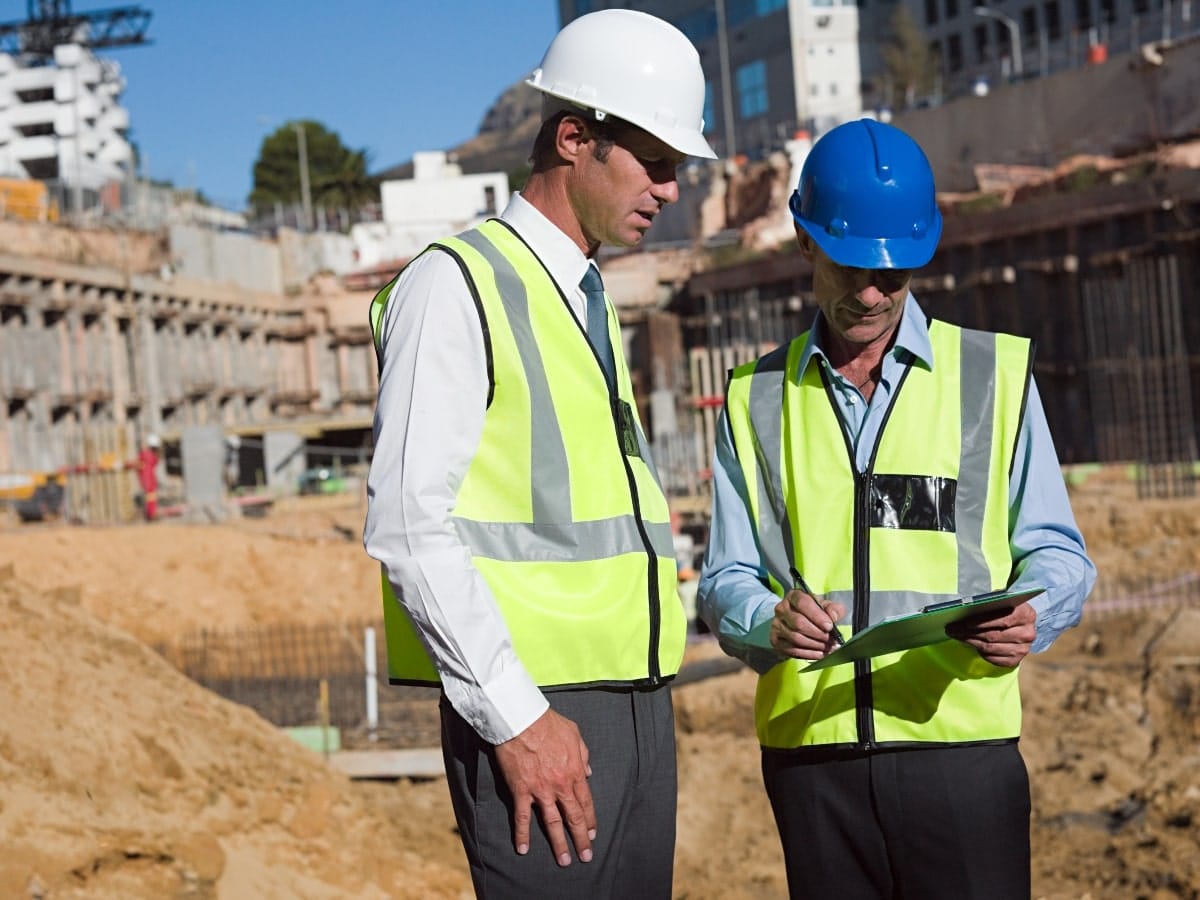 Construction and building site work involves lots of people, equipment, and machinery. As danger is part of the job, individual risk factors need to be identified and managed accordingly. Before you start any job, it's important to take a step back, review the site, and start from a fresh slate.
Site cleaning before construction gives you complete visibility over the working environment. You can identify and fix existing hazards, create a map of the space, and set up people and gear in the right places. Industry best practices include removing debris, dealing with residue, cleaning dust, washing down surfaces, and cleaning windows to ensure maximum visibility. These steps and the right site accessories are a vital part of construction project safety and security.
During construction: Practical steps for keeping your construction site clean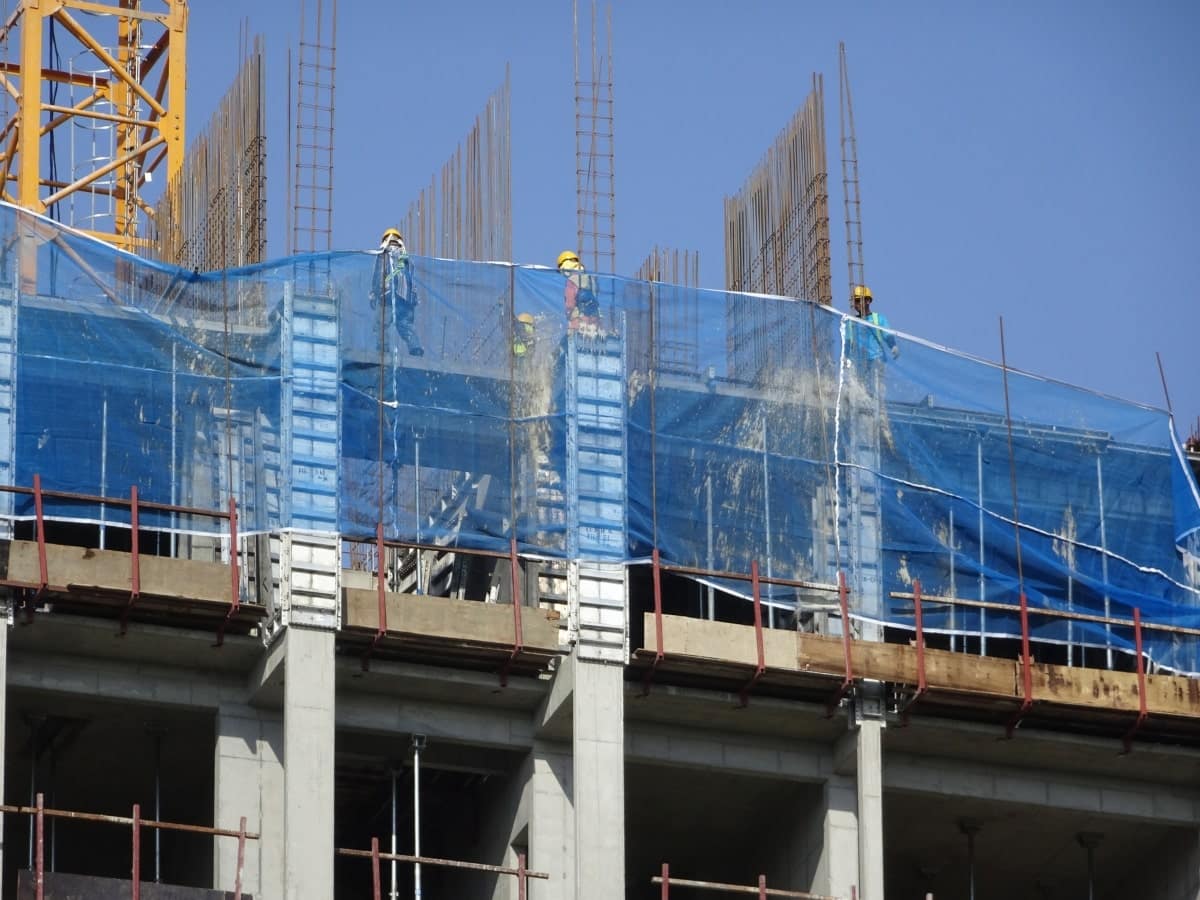 Once you've given your site the once-over and dealt with existing and potential problems, it's time to start work. During the construction phase, it's important to be consistent and deal with waste as you go to keep your site safe and tidy.
The following elements help to keep your construction site clean:
Fencing: Temporary fencing plays an important role on many construction sites. Safety fencing allows you to isolate specific areas and keep people away from garden areas, hazards, and waste zones.
Rubbish cages: Dedicated rubbish cages are an effective way to isolate and manage waste on construction projects. These basic wire enclosures are available in multiple shapes and sizes.
Scaffold net: Safety nets are used to manage debris on construction sites. These nets help to protect people and property from injury due to falling materials. Scaffold nets can be installed vertically or horizontally.
Sediment control: Construction sites are often full of sediment, some of which can be hazardous. Sediment control measures help to reduce risk to the environment, including sediment control cloth, erosion mats, silt fence installation and raised exit pads made from crushed rock.
Dust control: Dust and fine particles can cause respiratory problems if not addressed. Dust control measures include regular watering, poly sheets, dust control cloth, chlorides, mulch, stone, and soil stabilisers.
Designated waste area: At every site, you need to establish a designated waste area to deal with construction debris. This helps to ensure optimal cleanliness, as all waste materials are isolated and ready to transport.
Access points: Proper site management involves construction cleaning and managing access points. If you can prevent dirt and clutter from entering the construction site, you have already won half the battle.
Construction site cleaning: After the work is done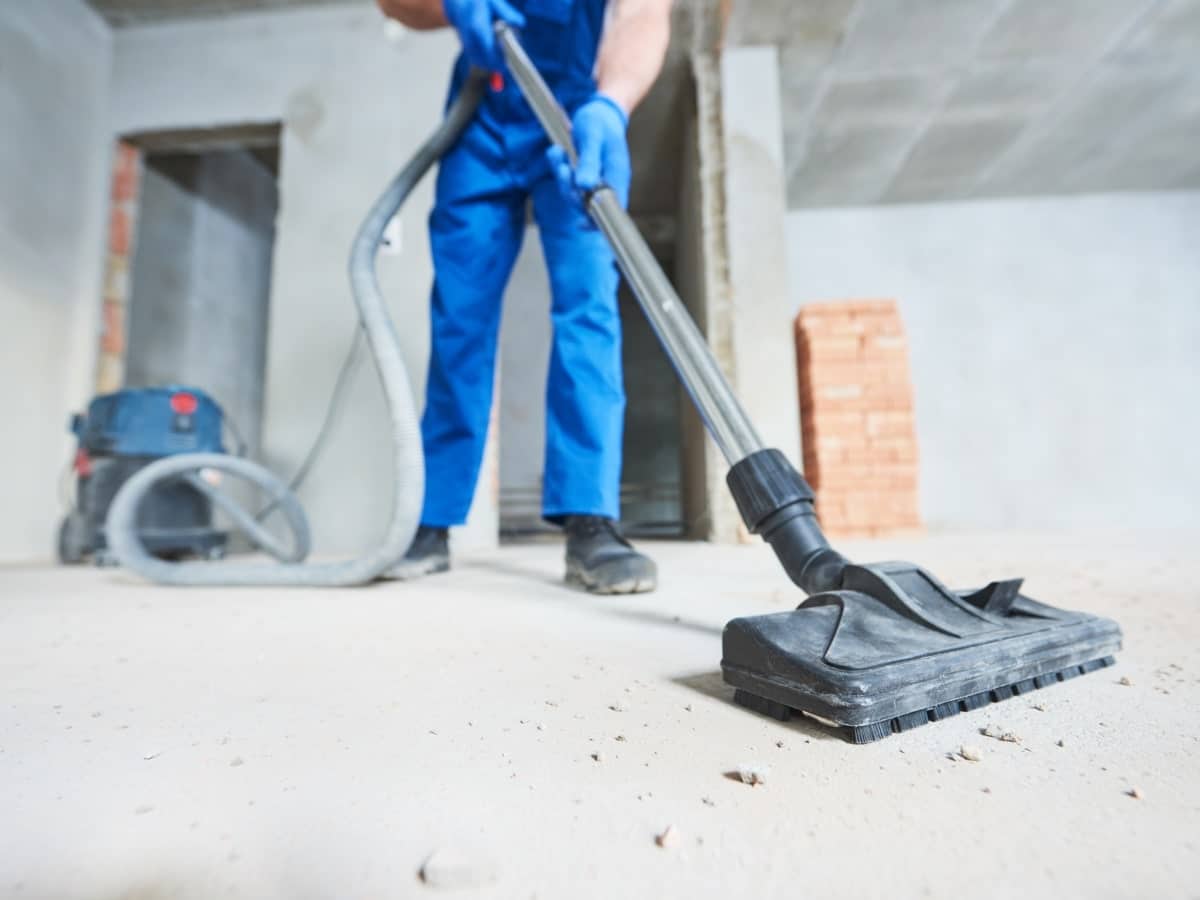 Once the job is finished, it's important to conduct a thorough clean up and remove all waste materials from the site. While this process differs based on site dimensions and job type, it's typically carried out in three separate stages. A preparatory clean is done before construction has been completed, but before any carpets or floor coverings have been installed. A final interior clean takes place after the build is complete, which includes dust and debris control. This is followed by waste removal and a final exterior clean.
Post-construction cleaning includes the following elements:
Surfaces dusted and wiped
Closets and cabinets cleaned
Appliances wiped down
Carpets and floors vacuumed
Windows and doors cleaned
Walls and ceilings cleaned
Fittings wiped down
Mirrors and splashbacks wiped
Protective film removed from windows
Exterior surfaces cleaned
Driveways and access points swept
Lawns and gardens tidied
All waste and containers removed
Importance of construction site cleanliness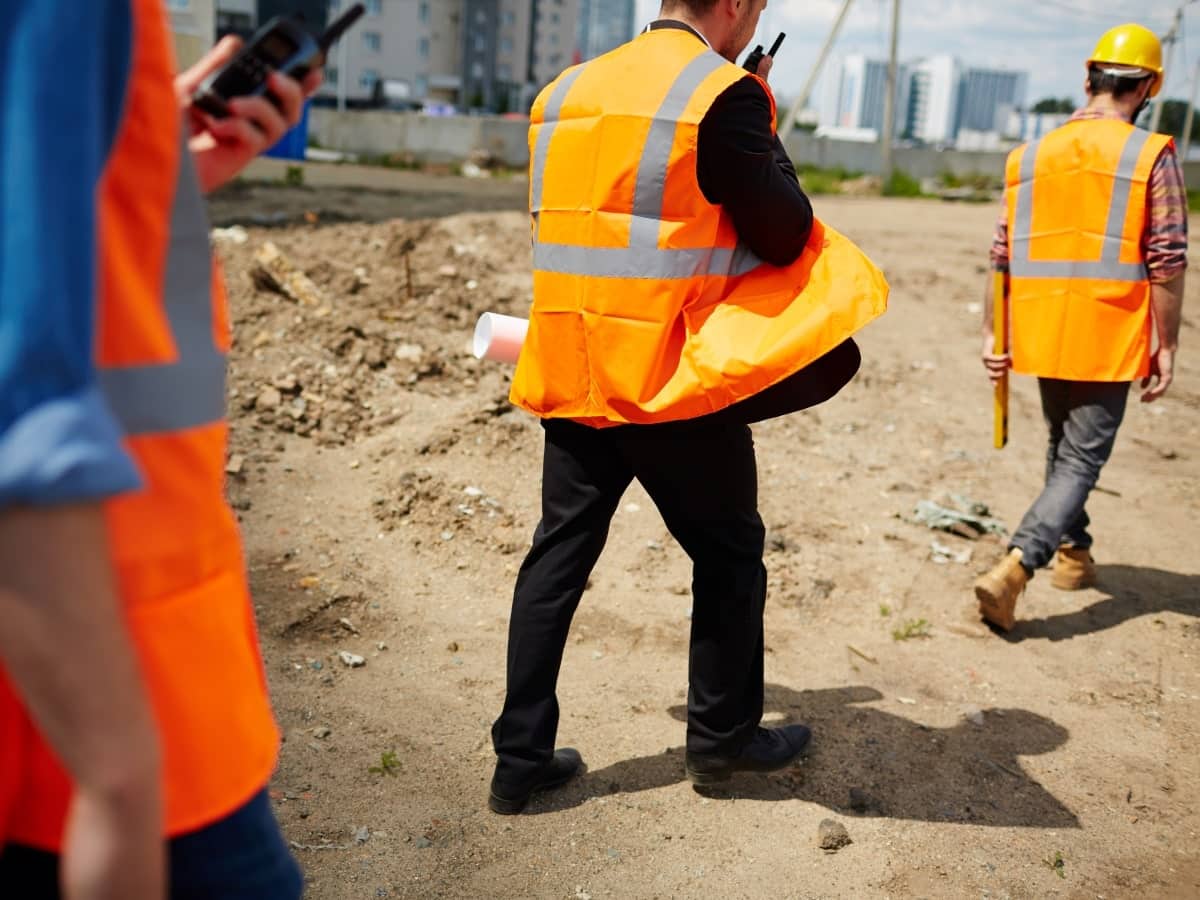 Whether you're doing a simple renovation project or a complex new build, it's essential to meet workplace health and safety standards. Regular construction site cleaning is about managing risks, removing hazards, and preventing injuries throughout your project. Along with looking after your workers, maintaining a clean building site also offers productivity and efficiency benefits.
Clean construction sites are associated with the following benefits:
Workplace safety standards
A clean building site is a fundamental part of workplace safety. If you're conducting a business or undertaking (PCBU) in the construction industry, you have a legal duty to keep your workplace safe. Work health and safety (WHS) laws for construction are created and enforced by Safe Work Australia, and they include a range of risk control measures. Under national guidelines, you are obliged to eliminate risks, isolate hazards, and set up a safe working environment.
Accident prevention
Among other things, WHS guidelines are designed to prevent workplace accidents. Construction workers face multiple potential hazards, many of which can be mitigated through cleaning procedures. Risks include slip and fall injuries, falling from heights, injuries from equipment or machinery, and electrocution. Good cleaning helps to prevent these accidents, and poor cleaning creates additional construction site hazards linked with falls, trips, and respiratory problems.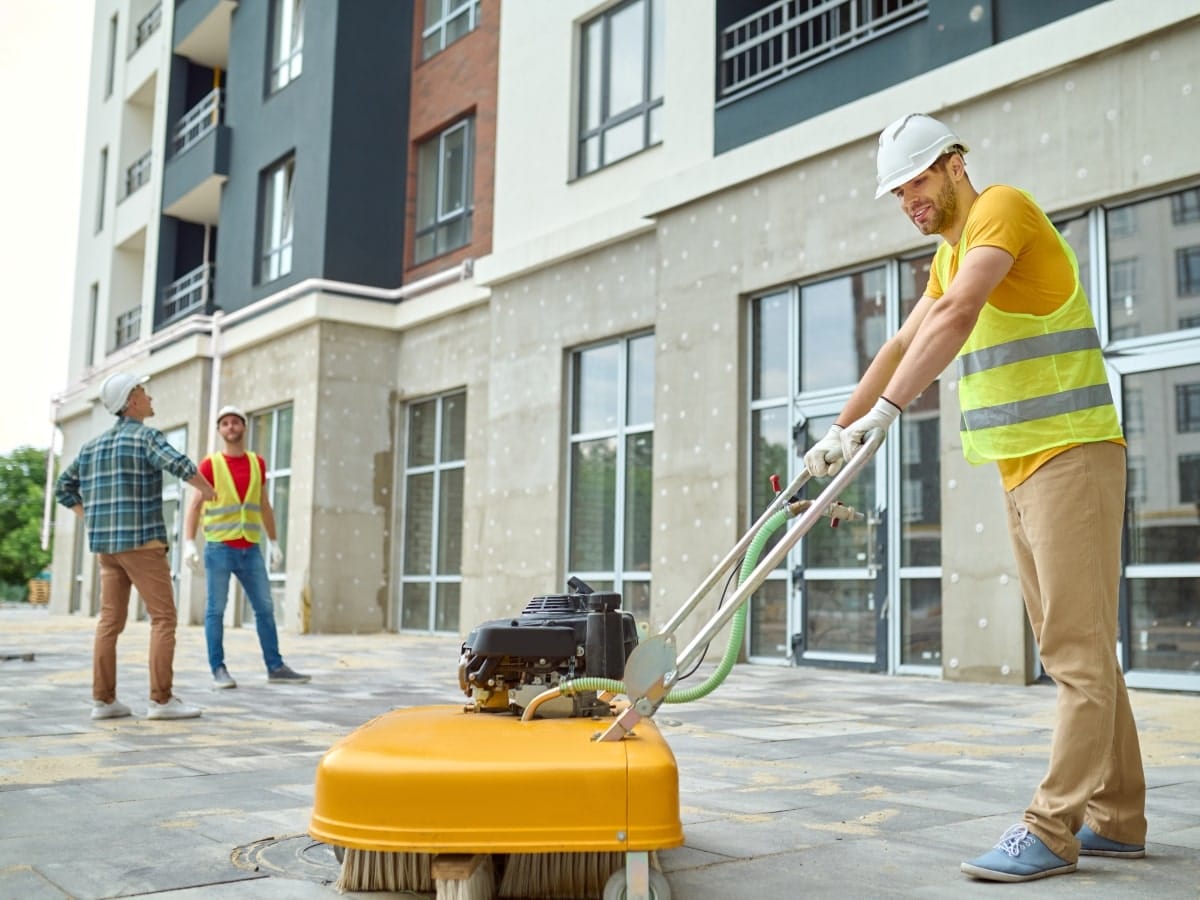 Workplace efficiency and productivity
Construction site cleaning is not all about safety; it also impacts efficiency and productivity. A messy site is more difficult to move around, and equipment is also harder to find. When you create a tidy working environment, workers will spend less time looking for gear and more time looking after themselves. When positive expectations are set by management, good workplace habits will develop over time and become part of your workplace culture.
Operational compliance
There are defined industry standards in Australia linked to workplace safety and environmental management. Various control measures are needed for every site, with details listed by Safe Work Australia.
Tips for regular construction site cleanup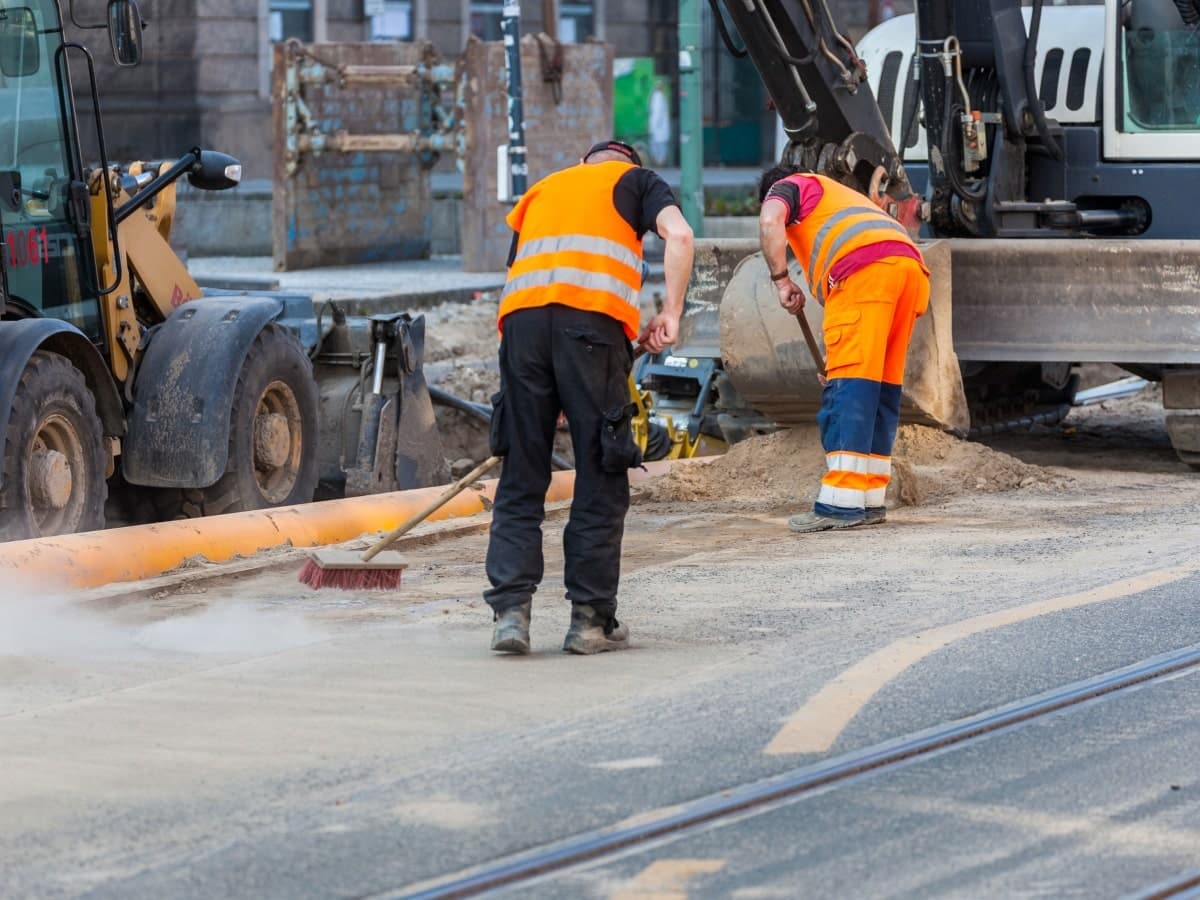 If you're looking after a construction project, it's important to maintain a regular and ongoing cleaning schedule. From pre-cleaning to ongoing site management and post-project cleanouts, consistency is everything. If you allow waste to build up over time, you are risking the safety of your people and the quality of your work.
It's essential to invest in quality cleaning equipment and accessories to ensure construction site clean ups. There are lots of great cleaning tools out there, from heavy-duty brooms and mops to advanced vacuum cleaners, fencing products, and rubbish cages. Protective safety gear is also essential, including masks, goggles, and gloves.
When you keep your worksite neat and tidy, you are helping to ensure workplace safety, prevent workplace accidents, and promote an efficient and productive working environment. Not only is this an essential part of construction compliance, but it's also the responsible thing to do for your workers. You can create a safe worksite by incorporating the practices outlined in this article.
Keep your construction site clean with TTFS
To ensure a safe and efficient construction site, you must have the right site accessories. At TTFS, we offer quality construction products from five locations across Australia. With 24-hour delivery services, you can count on TTFS for your temporary fencing and site accessories needs.
Contact our experienced team today on 1300 876 614 or fill in an enquiry form.