Have you been thinking about building a pool?
Temporary pool fencing during construction is a requirement for the safety of your family, construction workers and visitors. Temporary pool fencing must meet the regulations imposed by your local government and it is important that you use the correct system if you want to avoid any potential problems.
At TTFS, our temporary pool fencing panels are designed specifically to cater for pool safety during pool installation and construction. Panels are hot-dip galvanised for durability in all weather conditions and their specifications comply with Australian Standard A.S. 1962 when permanently fixed.
Why TTFS' Temporary Pool Fences?
We supply householders who are constructing pools as well as pool industry and fencing contractors.
Many customers from the swimming pool construction industry or permanent fence business carry a supply of portable pool fencing to extend their service offering.
Our temporary pool fence sets have a number of outstanding features, including:
A specially designed foot which allows a consistent gap of 100mm between ground and panel.
The sturdy structure to be easily moved without the need for star pickets.
Self-closing latched gate available for safe and secure access.
Strong assembly, so no need for temporary fencing stays/bracing.
Designed and manufactured in accordance with Australian Standard AS 1926.1-2007 Swimming Pool Safety, Part 1: Safety barriers for swimming pools*.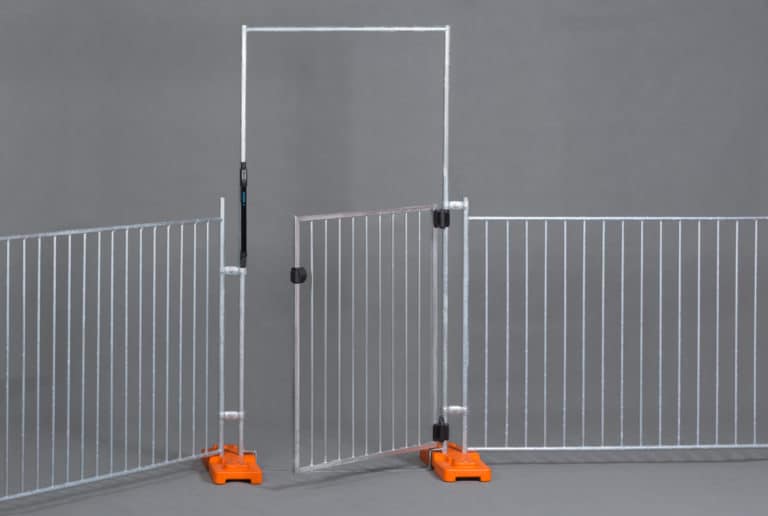 Safety
When a homeowner decides to install a swimming pool in their backyard, they may find that temporary pool fencing is an excellent decision.
Since homeowners who have children or pets in the home or neighbours that have children nearby, these fences can help with preventing anyone from falling or jumping into the pool during the construction process without the proper supervision. This means that temporary pool fencing can help to save lives if they are installed correctly.
It Is a Legislative Requirement
Pool and spa barriers are required by legislation for any swimming pool or spa in excess of 300mm in-depth and must be maintained for the life of the pool or spa. But did you know that pool and spa barriers are also required whilst in the construction period?
Fencing must be constructed in such a way to make sure that:
It is at least 1.2 metres high
Young children can't crawl under or climb over it by using foot and handholds
The fence is an effective barrier to young children.
It is permanent.
Any boundary fences used as part of the child-safety barrier are at least 1.8 metres high on the side that faces the pool, with a 900 millimetres non-climbable zone at the top inside of the fence, a boundary barrier may be climbable on the neighbour's side.
If you fail to adhere to these requirements you may be stuck with a hefty fine.
Contact the Temporary Pool Fence Experts
If you are unsure about what you require, TTFS are just a call away. We can help you make the right decisions, meet your requirements and help you stay within budget. Just give us a call on 1300 119 998.