There are many reasons why you may need the use portable fencing in Australia. Sometimes it can be for legal reasons, like when you are building a new home, an in-ground pool or even renovating a part of your home. Other reasons can be for crowd control at events or even practicality like fencing for training a new pet or separating a section of your home for your pet.
Construction and renovating – using temporary or portable fencing
When building a new home in Australia it is a legal requirement to have temporary or portable fencing erected; from the time construction has commenced until lockup and beyond. This law ensures that the portable fencing keeps debris contained during excavation work and that the public is kept safe from possible dangers. It also protects your site against unauthorised intrusions and theft.
If you are renovating part of your home that is exposed to the public, you are also required to have portable fencing erect for similar reasons that were mentioned above. This will also protect members of your family and ensure you are adhering to your legal requirements and are not liable for injuries to the public or to nearby property.
Not sure who's responsible for hiring and erecting your portable fencing? If you are an owner builder then you will be in charge of sourcing portable fencing and pay for it. There are many reputable businesses Australia-wide to hire fencing from, or you could look at buying your own fencing.  If you are getting works done through a builder then check that portable or temporary fencing is included in your contract. If it is not, then question why as most builders should include portable fencing in their contracts.
Portable fencing during pool installation
Again, it is a legal requirement to have portable pool fencing installed during the installation of your pool; especially if you are residing at your residence. If no one is living at the residence where your new pool is being installed then you will still need to install a portable pool fence if the pool cannot self-drain as rainwater can accumulate at the bottom.
Portable pool fencing is different to the temporary fencing used for construction and crowd control so be sure that the correct fencing is being installed. There are companies that specialise in portable pool fencing so be sure to do your research. Again the company installing your pool may include the hire and installation of portable pool fencing, therefore it's best to double-check your contract.
Note: Permanent or portable pool fencing is also required for above ground pools that can hold more than 30cms of water.

Crowd control barriers
Crowd control barriers or temporary (portable) fencing are the top choices at events for area containment and control of crowd flow. Often portable, solid crowd control barriers are used for areas for directing outside traffic and protecting pedestrians, specific metal crowd control fencing is used for crowd flow within an event and taller, construction style portable fencing is used to contain the boundaries of an event.  With your portable fencing options, it's ideal to use clear signage to ensure that attendees understand the boundaries at your event.
Portable fencing for pets and animals
specific for larger areas can be a great investment, especially if you would like to segment a part of your yard. They can be purchased in panels so that you can make the enclosure as big or as small as you like. Great for securing a dog or even a chicken coop for free range roaming.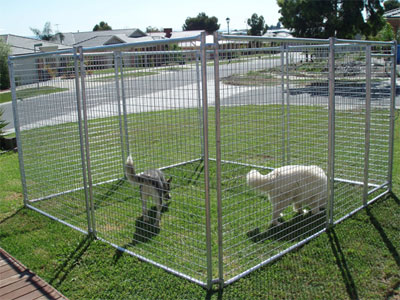 Smaller portable all in one fencing options are fantastic for securing puppies and kittens for effective training. They are flexible to move around and can be used indoors and out doors.
A wide range or portable fencing options for your pets can be found at your local DIY hardware store.
If you need further help picking the right portable fencing option for your needs, please feel free to give us a call or contact us online today.