You might not realise, but portable fencing has a multitude of different uses within Australia. You may need it for legal reasons during building and construction, for controlling crowds at events or even to help temporarily fence off areas from your pets. Below are four of the most common ways portable fencing can be utilised on a daily basis.
Building & Construction
Did you know that in Australia it is a legal requirement to have portable fencing erected when building a new home? From the moment that construction has commenced until lockup and beyond, you must have temporary fencing present. This law ensures that the portable fencing can keep debris contained during all excavation work, the general public is kept safe from any possible dangers, and your site is protected against unauthorized intrusions or theft.
Not sure who is responsible for your portable fencing? If you are an owner builder then you will be in charge of sourcing your portable fencing and paying for it. There are many reputable businesses Australia-wide where you can hire portable fencing from, or you could look at buying your own. If work is getting done through a builder, then check that portable or temporary fencing is included in your contract. If it isn't, then question why as portable fencing is a standard on most builder contracts.
Pool Installation
Again, it is a legal requirement to have portable pool fencing present during the installation of your pool, especially if you are residing at your residence. Even if no one is living at the residence, you will still need to install a portable pool fence if the pool cannot self-drain as rainwater can accumulate at the bottom as poses a safety risk. Pool installers often include the hire and installation of portable pool fencing in their contracts, so make sure you double-check your contract.
Portable pool fencing is also completely different from the portable fencing used for construction and crowd control purposes. If you're unsure if you have the right type, consult with a portable fencing professional such as TTFS.
Note: Permanent or portable pool fencing is also required for above ground pools that can hold more than 30cms of water.

Controlling Crowds
Portable fencing is often utilised for crowd control purposes, especially at large music or community events. It is particularly effective in directing outside traffic, protecting pedestrians, area containment and control of crowd flow. If you are planning on using portable fencing for crowd control, printed shade cloth or banner mesh signage is highly recommended as it can help point attendees in the right direction of your services and indicates the boundaries of your event.
Pets & Animals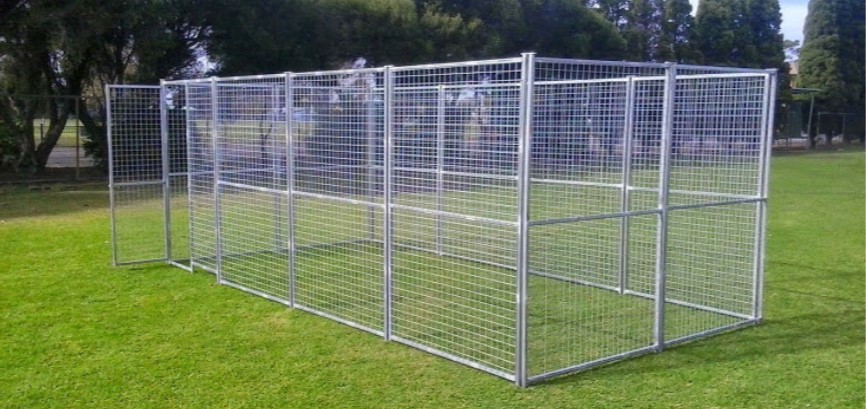 Portable fencing can be a great investment if you're wanting to segment part of your yard for pets. It can be purchased in panels so you have the flexibility to make the enclosure as large or as small as you'd like. With portable fencing, you can even create a chicken coop for free-range roaming. Smaller, all-on-one portable fencing is also fantastic for securing puppies and kittens for training.
Contact Your Portable Fencing Experts!
TTFS have the widest range of portable fencing options for sale in Australia. For any enquiries or for help picking the right option for your needs, contact the TTFS team today!